As men grow older, it is natural for the body to experience a loss of testosterone. According to the Mayo Clinic, once a man reaches around thirty years old, his testosterone will lower by 1% each year. However, there are those unlucky few who begin to suffer at a younger age or lose so much testosterone it becomes a health problem that negatively affects everyday life. This is where Nebido comes in. Nebido is a testosterone undecanoate or a hormone replacement that aims to resupply the body so that you can avoid problems caused by any chemical imbalance. If you are considering this drug, we will help you understand the procedure, Nebido side effects and how long does it take to work, before you decide to try it.
What Causes Low Testosterone?
Lack of testosterone, also known as Hypogonadism, is placed into three categories. The first, known as Primary Hypogonadism, presents as a potential problem with the testes. The second, known as Secondary Hypogonadism, occurs when the pituitary gland (in the brain) becomes out of balance in the stimulation of testosterone production. The third — known as mixed Hypogonadism — is caused by a combination of primary and secondary Hypogonadism and is often related to a man's age and health. Regardless of the origin of causes, Hypogonadism or reduced testosterone levels create both physical and mental distress for men of all ages.
The Masculine Blues
Before we launch into how the Nebido treatment can assist with lost testosterone, it is important to understand what problems are associated with the lack of testosterone. Not only does it interfere with a man's sex drive, but it can disrupt sleep, cause depression and even memory loss. Physically it can cause problems with your body weight and ability to maintain muscle, but more serious risks include cardiovascular disease, diabetes and metabolic syndrome, and osteoporosis. If you are affected, it's a good idea to consider getting testosterone treatment with our London clinic so you can feel like yourself again.
What Are Nebido Injections and Side Effects
At Harley Street Medical, we understand testosterone replacement therapy isn't a "one-size-fits-all" treatment. When you come into our office for a consultation, we will come up with the best treatment plan for you. Nebido is a testosterone undecanoate that acts as a replacement for the male hormone. It's one of the most popular methods to counter-balance the missing testosterone because it's an injection directly into the bloodstream and the treatment only takes a few minutes. You can expect to get an injection every ten to fourteen weeks until your doctor alters the treatment, but every man will have a personalised treatment protocol.
Nebido long-lasting nature is extremely favourable in terms of testosterone replacement therapy (TRT). The slow-release gives you a steady supply of testosterone in the bloodstream, meaning you will have fewer mood swings. Other mild side effects you can experience with hormone injections are irritability, acne, weight gain, headaches, nervousness, and — in rare cases — prolonged erections. You'll want to stay in close touch with your doctor to let them know if you feel like the treatment is too much or not enough and if you are experiencing any negative side effects.
How Long Does It Take for Nebido to Work?
Hormone therapy will affect every man differently, but studies show that with Nebido treatment men regain sexual interest and increased libido as quickly as three weeks, with changes in erections taking anywhere from three weeks to a couple of months. In studies, men experience a maximal return to a full and happy sex life after three to six months. Noticeable improvements in mood and overall quality of life are detectable very early into treatment, so testosterone injections are a great choice to consider.
If you are suffering from symptoms of low testosterone, make an appointment with us today to find out what we can do to help. We offer the best treatments for testosterone replacement therapy in London.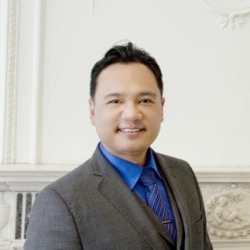 Latest posts by Dr. Chia Tan
(see all)