If you look in the mirror and are not happy about your chin or jawline, you can change the shape of your face with non-surgical methods. If you are considering chin augmentation, Harley Street MD offers non-invasive procedures that can give you a fresh new look. Whether you want to slim your jawline or make it more pronounced, we share below the different procedures on offer and answer the frequently asked questions about non-surgical ways to change your chin.  
What Is Jawline Filler? 
We can perform magic on the entire face with dermal fillers. These are made from hyaluronic acid (HA), which is used to reshape and mould the jawline however you wish to transform it. HA is a gel-like substance similar to the naturally occurring hyaluronic acid found in your body. We use HA dermal fillers to "fill" shallowness and imperfections in the chin area, or reshape the jawline. Sometimes all that is needed to slim the face is a series of Botox injections in the jawline. 
There are many reasons why someone might want to alter their jawline. For women, a stronger chin can be achieved by increasing the height, width or projection, which can make the entire face shape look slimmer. For men, a more masculine, defined jaw can be achieved by balancing height and width along with jawline treatments to the jowl and jawlines. Whatever look you want to achieve, we can discuss if it's possible at your free consultation. 
What Results Can I Expect from Chin Augmentation?
The results of a chin augmentation procedure will vary based on your face shape and your goals for the treatment. This non-surgical procedure can have a wonderful effect on the overall face shape without the need for surgery. Looking at the profile of the face as well as the front and along the neck, the doctor will assess the optimal results possible from the procedure. Symmetry is one of the most important aspects to consider when looking to enhance parts of the face. Asymmetrical features can be improved using dermal fillers, which can also bring a focal point to the face.
The dermal filler treatment will be tailored and personalised to give you the ideal lift and volume suited to your face — this treatment can also help to improve sagging chins and jowls. Although it's a procedure that focuses on one area of the face, it dramatically impacts the shape as a whole, giving you a fresh new look that is also natural. You will feel your confidence soar when you look in the mirror and step out into the world. 
How Long Does Chin Filler Treatment Take?
Chin augmentation can take as little as 30 minutes to up to 45 minutes. First, your face is cleansed and a topical anaesthetic is applied to help numb the area. This is followed by the chin filler injections specifically targeted to the required face areas. As there is no need for hospitalisation, the patient experiences minimum disruption to their day and can go back to work immediately afterwards.
While the procedure doesn't take long, there are a few special considerations to take into account. In the days leading up to it, you should be careful what medications you take, including the use of NSAIDs. It is not recommended to take these or aspirin within two days of the procedure. Alcohol should also be avoided the day before the procedure and for two days after. Hot environments like saunas should be avoided for two weeks after the treatment. These are minor lifestyle adjustments to ensure the safety and success of the procedure.
Is There Aftercare for Chin Filler?
There is minimal disruption to your schedule with this procedure. You can get straight back to work if you like or take a day off. There may be some slight bruising and puffiness after the procedure, but this will settle down within a day or so. It won't be long before friends and family notice your brand new facial enhancement.
Two weeks after the filler procedure, you'll be invited back for a follow-up to discuss the treatment and examine your results. The doctor will check how the chin filler has settled, offer you complimentary options, if needed, for your new look, and give you the opportunity to ask any questions or raise any concerns that you might have. Since dermal fillers are not a permanent solution, you will need to top up your filler to maintain the new shape of your chin. 
How Long Until I See Results? 
The results of this procedure show immediately, so you can instantly start getting accustomed to the new you. Unlike some other non-surgical procedures, you'll get to see the change right away, but give it a week or two to experience the full effect. 
How Long Do the Results Last?
As this is a non-surgical alternative, the results will last up to 18 months depending on several factors like genetics, metabolism and lifestyle. It can be an ideal way to see the effects of a change to facial aesthetics without committing to a permanent change. After the dermal fillers begin to dissipate, you can decide if you want to opt for something more permanent or continue with a top-up procedure to refresh your jawline.
How Much Does Chin Filler Treatment Cost?
The cost of the treatment will vary slightly dependant on the results that you want to see and how much filler is needed to achieve your desired results. At Harley Street MD, our chin augmentation procedure starts at £350. The doctor will take the time to understand what you want to achieve with your new look and will then give you a cost based on this.
If you want to know more about our chin augmentation procedure, get in touch with us at Harley Street MD for a free, no-obligation consultation. Our experienced consultants will guide you through the process and answer any questions that you might have.
Get in touch and book an appointment with us today.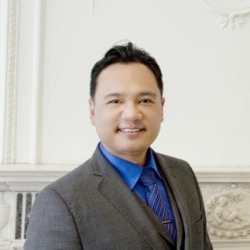 Latest posts by Dr. Chia Tan
(see all)