There are certain areas of the body where pockets of fat are hard to get rid of with diet and exercise. Everyone has different genetics and lifestyles that determine where stubborn fat will accumulate on our bodies. For some people, it's around their belly, saddlebags, the area on the upper arms, or under the chin.
No matter how hard you try, you may have fat under your chin that leaves you feeling self-conscious. This is affectionately known as a "double chin". But there's good news! We can help you lose weight without surgery and get rid of your double chin without exercise with our modern non-surgical chin augmentation treatments.
What Procedures Are Available?
It's amazing what we can do with dermal fillers to change the look of your face without surgery. These new procedures have become very popular because they are safe and do not require you to go under the knife or stay in hospital. There's little to no downtime for our non-surgical treatments and you can go back to work often right after the procedure.
We have a chin augmentation treatment that targets this stubborn fat under the chin. We can also change the shape of your jawline if you feel your chin is too prominent, if it is retracted from your face, or if you want to reshape it. To do this, we inject natural hyaluronic acid (HA) dermal fillers into the treatment areas. This dermal filler stimulates your natural hyaluronic acid production, which acts as an internal moisturiser to hydrate your skin.
What Happens during the Chin Augmentation Procedure?
After your consultation to determine the best plan of action for your chin augmentation, you'll come into the office for the procedure, which will take less than an hour. We will do everything to make sure you are comfortable during the treatment. First, we cleanse and disinfect your skin and apply a topical numbing cream to ensure your comfort. There is anaesthetic already integrated within all the dermal fillers we use, and this helps further minimise any discomfort you may have — during and after the procedure. An ice pack or Arnica might be used to minimise bruising if needed.
Our chin augmentation procedure usually takes around 15 minutes on average to complete and the results are pretty immediate. Using this method will result in minimum or no downtime, so you can return to work after the procedure if needed. We think this treatment is your best option if you want to change the look of your chin. After two weeks, you can come into our office for a complimentary follow-up so we can check the progress of your procedure. Dermal fillers are not a permanent solution, but they can last up to eighteen months for some people.
General Weight-loss without Surgery
We already know there are some stubborn areas of fat that don't want to go away with diet and exercise. You might have tried everything, but still, that extra bit of fat will not budge. Or maybe you are too busy to spend hours in the gym every day. We offer two EU-approved methods for weight-loss you may want to consider.
Aqualyx Fat-Dissolving Injections
Do you want to reduce fat in certain areas of your body quickly without surgery? Then an Aqualyx fat dissolving injection could be a great solution. Fat-dissolving injections like Aqualyx are totally safe. Aqualyx is discovered and used worldwide since 2009. The way Aqualyx works is simple — it's injected into the adipose tissue under the skin and dissolves the fat cells. This fatty stuff then leaves the body naturally through the lymphatic system. Let us know if you want more information about this procedure.
Saxenda Weight Loss Injections
Saxenda helps regulate your appetite, so it's great for those people who struggle with their weight or have overeating problems. It makes you feel full faster, which prolongs satiety to help you not overeat. When Saxenda accompanies a healthy meal plan and an active lifestyle, more people keep the weight off for good.
Come into our office for a consultation so we can help you look great from every angle.
Are you wanting to get rid of your double chin to feel more confident? Book a free, no-obligation consultation with our aesthetic treatment experts. We offer the best treatments for weight-loss and non-surgical facial treatments to meet all your needs.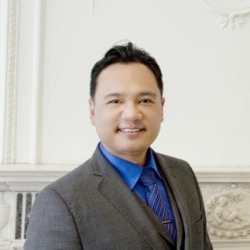 Latest posts by Dr. Chia Tan
(see all)