Cosmetic plastic surgery has made huge advancements over the last few decades, and since the 2000s, several procedures have become popular as a means of making adjustments to the face and body. However, as cosmetic surgery and unrealistic beauty ideals have become something we're more regularly exposed to in our everyday lives, it's also become increasingly common for people to see surgery as a quick fix for low self-esteem.
To change this perception of plastic surgery, organisations such as the British Association of Aesthetic Plastic Surgeons (BAAPS) have put a greater emphasis on safety in surgery, encouraging patients to find out all the facts before undergoing a cosmetic procedure. With the number of surgical cosmetic procedures performed in the UK dropping significantly over the past few years, former BAAPS president Rajiv Grover believes this is a sign of patients becoming more educated about the need to reflect carefully before taking this route.
Undergoing cosmetic surgery is never a decision to take lightly. Surgery comes with life-changing implications and several risks, so it's crucial to do your research and ensure you're making the right decision for yourself. To ensure you're armed with the required knowledge and help you reduce the risks, here are 12 things you should consider if you're thinking about cosmetic surgery.
1. Are You Doing It for the Right Reasons?
The first step before getting plastic surgery is asking yourself why you want the procedure. Cosmetic surgery can successfully improve the appearance of a body part that bothers you, but it isn't a magic solution that can make your life more satisfying or transform your outlook. You also shouldn't turn to cosmetic surgery to impress anyone else or because you feel pressured.
2. Do You Have Realistic Expectations?
A recent government survey found that 61% of adults feel negative or very negative about their body image. It's essential to understand that while plastic surgery can enhance your appearance and boost your confidence, it's not a guaranteed fix for low self-esteem.
If you're struggling with negative body image, there may be underlying issues influencing how you feel about yourself, which you should address before rushing into surgical procedures. Speaking to a professional surgeon and talking through these things beforehand will determine whether you're a suitable candidate for plastic surgery.
3. Have You Researched Your Surgeon and Clinic?
Cosmetic surgery is an invasive procedure and provides permanent results, so it's vital that you choose a safe, qualified and reputable practitioner. Before you go ahead with a procedure, take the time to research your chosen surgeon and clinic carefully, ensuring that they're fully trained, experienced and trustworthy.
An excellent surgeon will have evidence of their qualifications, be able to show you before and after images and have positive testimonials from previous patients. Before plastic surgery, you should always arrange a consultation to speak to your surgeon in person, allowing you to receive expert advice on cosmetic surgery, have any questions answered and ensure you feel comfortable.
If you're not sure what you should be looking for, take a look at our guide to choosing the right cosmetic clinic.
4. Are You a Suitable Candidate for Cosmetic Surgery?
Good candidates for cosmetic surgery are physically healthy, don't smoke and have realistic expectations about the process. Each surgery may also have its specific contraindications, so this is another thing you'll need to research and be aware of.
5. Are You Aware of What the Procedure Entails?
Cosmetic plastic surgery is a serious commitment that no patient should go into blindly. Knowing what your chosen procedure entails is essential to ensure it's the right fit for you, and this is something you should speak to your surgeon about during your initial consultation. Any reputable practitioner will ensure patients have a thorough understanding of the procedure they're considering and will also advise whether it's the best option to achieve the desired outcome.
6. Do You Know the Risks?
Plastic surgery complications are rare, but no type of cosmetic surgery comes without risks. Be sure to make yourself aware of any possible complications associated with the particular procedure you're planning on having. General risks of plastic surgery include:
• Infection
• Scarring
• Blood loss
• Blood clots
• Wound separation
• Fluid buildup
• An unexpected reaction to anaesthesia.
7. Can You Afford the Treatment You Want?
Cosmetic surgery isn't cheap! Costs will vary depending on the procedure you're having, but for a procedure with an experienced surgeon, you could be looking at spending several thousand pounds. Consider carefully whether plastic surgery is something you can afford before going ahead, and remember that there may be additional costs related to aftercare and any future procedures you may want to maintain your new look.
8. How Long Will You Need to Recover?
As with any type of surgery, you'll need time to recover after a cosmetic procedure. This may require you to take weeks off work, which isn't realistic for everyone. Don't go into cosmetic surgery thinking you'll be fine straight after — as well as the initial pain, swelling and bruising, you may also need to restrict your usual activities to ensure the best results.
9. Will Scarring Be Visible?
There's no doubt that you'll have scars after plastic surgery. Before undergoing a procedure, you should know where these will be and whether they'll be visible.
10. Have You Talked It through with a Professional?
As well as having a consultation with your practitioner, you may also benefit from speaking to other medical professionals about the procedure. Talking your decision through with a GP or mental health professional can help you manage expectations and ensure cosmetic surgery is the right choice for you.
11. Have You Told Your Friends and Family?
Not everyone wants to tell their loved ones about their decision to get cosmetic surgery, but friends and family may be able to provide support. Letting those closest to you know about your procedure can help you avoid awkward conversations later on, and it will also ensure you have someone to check up on you post-surgery (and drive you home!).
12. Is There a Non-surgical Alternative You Could Try?
These days, many types of plastic surgery have a non-surgical counterpart for patients to consider. For example, rather than getting a traditional "nose job", you may consider non-surgical rhinoplasty or opt for Botox rather than a surgical facelift. Non-surgical cosmetic treatments are a low risk, minimally invasive and more affordable alternative to surgery, plus they typically don't require downtime.
Many patients find that non-surgical cosmetic treatments are enough to help them achieve the results they desire, while others use them to determine whether they're happy with their new look before making permanent, irreversible changes to their body.
At Harley Street MD, we're experts in non-surgical cosmetic treatments. If you want to improve your look without going under the knife, get in touch for a no-obligation consultation at our reputable London clinic.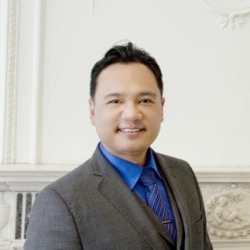 Latest posts by Dr. Chia Tan
(see all)