Non-surgical cosmetic procedures have become more popular than ever for a multitude of reasons. Women and men are flocking to cosmetic clinics for quick procedures like Botox or fat removal injections because the treatments can be done on your lunch break. These are also called "non-invasive procedures" because you aren't required to undergo surgery to have them. You might be wondering if you can get the same results as cosmetic surgery or have questions regarding safety and cost differences. Read on as we answer all your burning questions about the differences between cosmetic procedures and cosmetic surgery.  
What Exactly Are the Differences between Cosmetic Procedures and Surgery?
The kinds of cosmetic treatments that we offer in our London clinic are considered non-surgical or non-invasive procedures. These are either done on the skin's surface (like a micro-needling facial) or performed with needles (like Botox and dermal fillers). Non-surgical treatments don't cut deep into the skin's surface and do not require a visit to the hospital with a board-certified surgeon. Procedures that are considered cosmetic surgery, on the other hand, are things like liposuction, breast augmentation, tummy tucks and rhinoplasty. 
Can I Get the Same Results with Non-surgical Cosmetic Procedures?
Non-surgical procedures are not permanent. We think that this may be the reason why people are willing to pay more and suffer through the pain of surgery. You can get similar results with some non-surgical procedures, however. For example, our non-surgical nose job can fix many imperfections in the shape of your nose, but the results last about a year to 18 months and you must go in for top-ups after that. This is true for all our procedures using dermal fillers. 
Cosmetic surgery can give longer-lasting results and may be needed depending on how much modification you desire. Cosmetic surgery involves greater risk and cost, as well as a more involved and time-consuming prep and recovery. Comparing the two is like comparing apples and oranges. We recommend speaking to a cosmetic surgeon if you have something you want to drastically change because non-invasive procedures can only do so much.   
Which Is Safer?
Any procedure that is minimally or non-invasive is going to be safer than its surgical counterpart. Most treatments in our clinic can be done in a 30-45 minute appointment, while cosmetic surgery requires a trip to the hospital and often requires anaesthesia. 
Complications during surgery are a possibility and you may end up stuck with results you don't like — a botched procedure is hard to reverse. The great thing about dermal fillers is that they are reversible so, if you don't like the results, we can modify it. Procedures like platelet-rich plasma (PRP) therapy use your own blood for the injections so there's less risk of an allergic reaction or side effects. 
What Qualifications Should My Practitioner Have?
If you want cosmetic surgery, it's important to choose a board-certified surgeon. While there isn't much regulation on who can perform non-surgical cosmetic procedures, it's best to receive treatment from a medical doctor or nurse. Trained aestheticians can also provide some of these services, especially if they don't puncture the skin or require a prescription. When it comes to dermal fillers and Botox, doctors and nurses receive training on how to administer these injections, so we recommend seeing a qualified medical professional for these procedures.
What Are the Side Effects Associated with Cosmetic Surgery?
Surgery of any kind comes with risks — the worst being infections, necrosis or death. 
Milder, more common side effects include scarring, nerve damage and blood clots. There could be complications associated with the surgery immediately after or many years later because mistakes can happen even with the most skilled surgeon. You may be left with an uneven shape or dimples in the skin in the case of liposuction. The decision to have cosmetic surgery should not be taken lightly.
Are There Side Effects to Non-surgical Procedures?
The procedures in our clinic are considered non-invasive and you'll experience no downtime for recovery with most of them. There are no serious side effects with these procedures but you may experience slight discomfort, swelling or puffiness in the treatment areas — or some bruising with injectable treatments. Some treatments, like chemical peels, may require longer recovery time, but our most popular treatments, like Botox and dermal fillers, can be done on a lunch break and you can return to work right after. 
Are you thinking about trying a non-surgical cosmetic procedure? Book a FREE no-obligation consultation with our aesthetic treatment experts. We offer the best facial rejuvenation treatments in London to meet all your needs.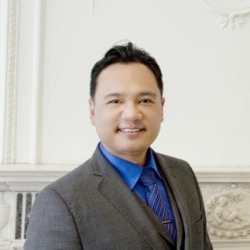 Latest posts by Dr. Chia Tan
(see all)