Updated September 2022
If you are considering any type of cosmetic surgery procedure, you may be confused by the difference between plastic surgery and cosmetic surgery. As both are used interchangeably, it can be difficult to know if you are choosing the right type of surgeon for the procedure you want. 
Non-surgical cosmetic procedures have become more popular than ever for a multitude of reasons. With advancements in non-surgical procedures, what was once only possible to achieve with surgery, in many cases, is now possible with a non-surgical procedure. With the lack of regulation in the UK, it can be difficult to know if an aesthetic practitioner is appropriately trained and competent to carry out treatments such as injectable dermal fillers and Botox.   
Most people choose procedures like fat reduction and Botox injections for men and women because they can be done in less than 30 minutes with no downtime. Non-surgical procedures are also less expensive, with lower rates of serious complications when compared to cosmetic surgery procedures, such as liposuction or a facelift. 
Injectable treatments are often referred to as "non-invasive procedures" because you aren't required to undergo surgery to have them. You might be wondering if you can get the same results as cosmetic surgery or have questions regarding safety and cost differences. Read on as we answer all your questions about the difference between cosmetic surgery and plastic surgery and how to find the best practitioner to meet your requirements. 
What Exactly Are the Differences between Plastic Surgery vs Cosmetic Surgery?
Plastic surgery started to be recognised as a separate medical speciality after World War 1, and this is widely considered the birth of many plastic and cosmetic surgery procedures performed today. Various reconstructive plastic surgery procedures were performed on soldiers who had suffered facial disfigurement, including rebuilding the nose and skin grafts. This also led to a greater understanding of the psychology of appearance, and these plastic surgery procedures led to Rhinoplasty, the first modern cosmetic surgery procedure.  
Plastic surgery encompasses both reconstructive and cosmetic surgery procedures. Following completion of the two-year foundation programme, trainee plastic surgeons enter core surgical training, rotating between different surgical specialities. Candidates must pass the MRCS (Membership of the Royal College of Surgeons) exam at the end of their core training.  For entry to plastic surgery speciality training, candidates must have spent at least six months in a plastic surgery post. Plastic surgery speciality training lasts six years, during which trainees must pass the Intercollegiate Speciality FRCS Plast examination before receiving their Certificate of Completion of Training (CCT).   
What Qualifications Should My Cosmetic Surgeon Have?
In the UK, the best way to know if your surgeon is a specialist plastic surgeon is to check the GMC specialist register. Another key indication is the letters FRCS(Plast) after a surgeon's name, which can only be used by plastic surgeons on the GMC speciality register. 
It is important to note that there are other surgical specialities that perform both cosmetic (aesthetic) procedures and reconstructive procedures. 
Oncoplastic Breast surgeons are trained in breast cancer surgery and reconstructive breast surgery. They have in-depth training in breast surgery and may also work privately providing cosmetic surgery procedures, such as breast augmentation and reduction.  
Ear, Nose, and Throat (ENT) surgeons are trained to perform nose surgery to correct breathing issues, called septoplasty. When this procedure is combined with more traditional rhinoplasty techniques, it is called septorhinoplasty. Cosmetic surgery procedures that are normally performed by ENT surgeons include rhinoplasty and ear pinning (pinnaplasty).
Oral and Maxillofacial surgeons perform a wide range of facial and mouth procedures. Some of these procedures will be a combination of reconstructive and plastic surgery. This is why cosmetic surgery procedures on the face are often performed by oral and maxillofacial surgeons. 
However, there is no regulation in the UK around cosmetic surgery, and any surgeon can perform cosmetic surgery procedures or non-surgical procedures. This means that surgeons with no formal training are performing procedures such as breast augmentations, liposculpture, and rhinoplasty as well as providing injectables treatments. They often use the title Cosmetic Surgeon and the letters MRCS. 
Acronyms:
• FRCS — Fellow of the Royal College of Surgeons 
• MRCS — Member of the Royal College of Surgeons 
How to Choose an Aesthetic Practitioner 
Now you understand how to choose the right surgeon for cosmetic surgery, you may be wondering how to choose an aesthetic practitioner. The regulation around who can perform non-surgical procedures in the UK is extremely lax, although it is currently being reviewed. At the moment, anyone can pay for training to administer injectable treatments. 
Consequently, numerous aesthetic practitioners with no medical background can complete short courses, so it is no surprise they make mistakes. Some are reversible, but others can be very serious, such as necrosis (death of skin cells), which can occur following dermal fillers, or loss of muscle control around the eyes following Botox.
When looking for a good aesthetic practitioner, there are widely accepted medical specialities that follow strict patient safety and care protocols. It is also essential to consider how many non-invasive cosmetic procedures your practitioner performs. After all, many surgeons will provide non-surgical treatments, but if they only perform them one day a week, they will have less experience and may not be the best option.
This is why it is better to find a specialist aesthetic clinic and check if the practitioner is a registered medical professional. 
UK Medical Regulatory Bodies
General Medical Council (GMC) — Doctors 
The Nursing and Midwifery Council (NMC) — Nurses and Midwives 
General Dental Council  (GDC) — Dentists and Dental nurses
Cosmetic Surgery vs Non-Surgical Procedures
The key difference is the results of non-surgical procedures do not last as long as cosmetic surgical procedures. The good news is you may be able to get similar results with some non-surgical procedures, including:
Rhinoplasty — Non-surgical nose job, also called a liquid nose job or liquid rhinoplasty, can make your nose straighter, look smaller, and change the overall shape. Rhinoplasty is considered one of the most complicated cosmetic surgery procedures. Because it typically involves breaking the bone, there is always a chance you might not be happy with the results. Revision rhinoplasty is one of the most common correction procedures at a rate of around 10%.
Face Lift — Our non-surgical liquid 8-point facelift using dermal filler can replicate the results of a facelift with almost no downtime and far fewer risks of complications. 
Cheek Augmentation — Cheek fillers can imitate cheek implants and often look more natural, with softer contours.
Lip Augmentation — Dermal fillers are the most popular way to change the shape or enhance your lips. Lip implants offer a permanent solution, but many people have them removed, as they can feel and look unnatural. 
Liposuction — Fat reduction injections can help you to reduce a double chin and lose stubborn pockets of fat. Although they will not instantly remove fat in the way liposuction does, many people notice a considerable difference, comparable to the results from liposuction, within a couple of months of treatment.  
Cosmetic surgery can give longer-lasting results and may be needed depending on how much modification you desire. Botox, dermal fillers, and non-surgical procedures can also be performed to help delay cosmetic surgery procedures. This is especially important with procedures such as a facelift, which will typically need to be repeated after approximately 10 years. 
Common Cosmetic Surgery Complications
Cosmetic surgery is, of course, still surgery, with many risks as any other type of surgery, including:
• Infection — Even in a hospital with excellent care, it is still possible to get an infection following surgery. In fact, infections are one of the most likely complications to occur after cosmetic surgery. If left untreated, infections can cause necrosis (death of skin cells), permanent disfigurement, and in rare cases, sepsis can develop, which can be fatal. 
• Hematomas — This is the medical term for a collection of blood that can form under the skin. Hematomas are the most common complication following a facelift procedure. Treatment usually involves draining the blood, which may require an anaesthetic. If left untreated, hematomas can lead to low blood pressure and shock, which can cause organ failure and death.
• Seromas — This is the medical term for a collection of fluid under the skin, and it is the most common complication with an abdominoplasty (tummy tuck) procedure. Seromas need to be drained, normally performed with a needle, and they can reoccur and, in rare cases, may need multiple treatments. 
• Nerve damage — A facelift procedure has a risk of nerve damage, as do all other types of cosmetic surgery procedures. Nerve damage can cause tingling and loss of feeling in the area affected. It can also be permanent.
• Organ damage — Liposuction has the highest risk of causing organ damage because a probe is used, which can puncture organs, such as the kidney, liver, and lungs. Organ damage can be very serious and will need additional surgery to try to repair the damage.
• Haemorrhage and postoperative blood loss — All surgical procedures have a risk of blood loss. Although rare, it is sometimes difficult to control a haemorrhage (blood loss), which can lead to shock and cardiac arrest during a surgical procedure. Post-surgical bleeding can be very serious, and according to a Vanderbilt University Medical Center study published in the journal Anesthesia & Analgesia, a higher number of deaths have been associated with blood loss compared to deaths from blood clots after surgery.
• General Anaesthetic (GA) — Although it is rarely serious, complications include heart attacks, stroke, lung infections, and an allergic reaction, which can be fatal. However, a general anaesthetic is considered very safe, with a fatality rate of 0.001%.
Complications during cosmetic surgery are always a possibility, and unfortunately, you may end up stuck with results you don't like, even in the hands of a specialist plastic surgeon. With greater risks and costs plus a more involved and time-consuming recovery, comparing cosmetic surgery and non-surgical procedures is like comparing apples and oranges. Any procedure that is minimally or non-invasive is going to be safer than its surgical counterpart.
Results: Non-surgical Cosmetic Procedures
The cosmetic treatments that we offer in our London clinic are considered non-surgical or non-invasive procedures. These are either done on the skin's surface (like a micro-needling facial) or performed with needles (like Botox and dermal fillers). Non-surgical treatments don't require a general anaesthetic (GA) and are generally considered a safer option than a cosmetic surgery procedure.
The results of non-surgical procedures can last up to 18 months; to maintain them, you will need top-ups every 12 to 18 months. This is true for all our procedures using dermal fillers. You may see some aesthetic clinics offering semi-permanent synthetic fillers that last up to five years, such as Bellafill.  
At Harley Medical MD aesthetic clinic in London, we only use fillers that contain naturally occurring substances already present in the body and do not use semi-permanent fillers as they have a higher associated rate of complications. Often these complications are difficult or impossible to reverse and require cosmetic surgery to correct or improve them.
The great thing about the dermal fillers we use is that they are reversible, so if you don't like the results, we can modify them. Procedures like platelet-rich plasma (PRP) therapy use your own blood for the injections, so there's less risk of an allergic reaction or side effects.  Most treatments in our clinic can be done in a 30-45-minute appointment, and we will always be honest if we think a non-surgical procedure will not give you the desired results. 
What Are the Side Effects Associated with Cosmetic Surgery?
Common side effects from cosmetic surgery are scarring, nerve damage, and unsatisfactory results. There could be complications associated with cosmetic surgery procedures many years later because mistakes can happen even with the most skilled surgeon. For example, following a facelift, you may be left with hairline distortion, asymmetrical results, or ear deformity. Following liposuction, you could be left with scarring and lumps or dimples in the skin. The decision to have cosmetic surgery should not be taken lightly.
Are There Side Effects to Non-surgical Procedures?
The procedures in our clinic are considered non-invasive, and you'll experience no downtime for recovery with most of them. Serious side effects are rare and typically associated with poor technique. This is why it is critical to check your aesthetic practitioner is a registered medical professional with an appropriate medical background who performs these procedures regularly. 
The most common side effects associated with non-surgical procedures are swelling and bruising. Some treatments, like chemical peels, may require longer recovery time, but our most popular treatments, like Botox and dermal fillers, can be done during your lunch break, and you can return to work right after. 
Are you thinking about a non-surgical cosmetic procedure? Not sure if you should have cosmetic surgery? Book a FREE no-obligation consultation with our aesthetic treatment experts and find out if we can provide an alternative treatment in London to meet your needs.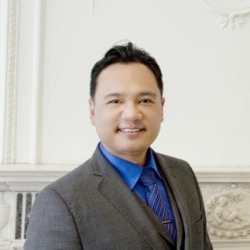 Latest posts by Dr. Chia Tan
(see all)