Losing weight is difficult, and many people find that they need a bit of extra help when it comes to those stubborn areas of fat. If you feel like you've tried everything to lose weight and aren't getting anywhere, you may have considered weight loss injections — but how do they work, are they safe, and how do you know whether they're right for you? Our expert non-surgical treatment specialists are here to answer all your questions.
Is It Possible to Lose Weight with Injections?
Weight loss shots aren't magic — they won't instantly melt away your fat and can't guarantee sustained weight loss if you're not willing to make corresponding lifestyle changes. However, if used as part of a wider weight loss plan, specialist injections can help reduce stubborn areas of fat and have been an effective form of weight loss treatment for many people
Before considering any form of weight loss treatment, you should take the time to consider why you want to lose weight and what your ultimate goal is. You should never pursue a weight loss journey that makes you feel unhappy due to pressure from other people — this is a decision that should be made for yourself and is one that should come from a place of empowerment and positivity. If weight loss feels right for you, injections are one method that can help you achieve the results you're striving for.
What Are Weight Loss Shots?
The term "weight loss injection" may refer to a few different types of treatment. At our reputable UK Harley Street clinic, certified professionals can provide both Saxenda medical weight loss injections and injection lipolysis and other forms of weight loss treatment such as fat freezing and shockwave therapy. Read on for more information about the weight loss injections we specialise in.
Saxenda Medical Weight Loss Injections
Saxenda medical weight loss injections are a form of prescription medication designed to regulate your appetite and make you feel full more quickly. If you are clinically obese or severely overweight, Saxenda could be a good option for you.
Saxenda is a liraglutide injection that can be used to help overweight patients lose weight and keep it off. It emulates glucagon-like peptide 1 (GLP-1), an appetite hormone naturally produced in the body. This treatment works by regulating your appetite, which can help you consume fewer calories and lose weight. As with any healthy weight loss treatment, Saxenda should be used alongside a reduced-calorie diet and increased physical activity to ensure positive results and improve overall health.
Studies have shown that Saxenda is an effective weight management treatment when paired with healthy lifestyle changes. Five randomised, placebo-controlled trials consistently resulted in a 4-6kg weight loss.
Aqualyx Injection Lipolysis
Perhaps you've also heard of "fat-dissolving injections" and wondered what the difference is between these and traditional weight loss shots. When you receive Aqualyx injections at our London clinic, you'll benefit from a flexible fat dissolving treatment that can be used almost anywhere on the body, but it works by hydrolysing the wall of fat cells rather than regulating your appetite. Aqualyx is often used to treat the following areas:
– Upper arms
– Stomach
– Double chin
– Buffalo humps (behind the neck)
– Chest fat
– Muffin top
– Inner thighs
– Pre-jowl area
– Knees.
Injection lipolysis is a non-surgical and minimally invasive alternative to liposuction. Aqualyx is an injectable, gel-based compound solution that works by attaching to fatty deposits and breaking them down over time. The fat is then dissolved and flushed out via natural processes in the body.
Studies have shown that injection lipolysis can be used with great success to reduce fat, with treatments required every three-four weeks until desired results are achieved. On average, patients require three-five sessions in total.
What Are the Benefits of Injections for Weight Loss?
Weight loss shots shouldn't be treated as a quick fix to reduce fat, but they can be incredibly beneficial if you want to tackle particularly stubborn fat deposits, need a helping hand on your weight loss journey, or require some extra motivation.
People are increasingly choosing weight loss injections as an effective alternative to surgical procedures such as liposuction, as this minimally invasive treatment option requires no downtime. A single injection lipolysis treatment can be completed within 45-60 minutes, while Saxenda can be self-administered at home as long as you've received guidance from a medical professional.
Are Weight Loss Injections Safe?
Both medical weight loss injections and injection lipolysis are considered safe forms of weight loss treatment with minimal side effects. These treatments are licensed for use in the UK and are MHRA approved. Weight loss injections should only be provided by a certified practitioner, who will discuss your options, run any required tests and provide professional advice alongside treatment.
How Long Does It Take To See Results from Weight Loss Shots?
Results and the time it takes to achieve them will vary depending on the type of treatment you receive and other factors such as lifestyle changes.
With Aqualyx, patients typically start to see results around eight weeks after their initial treatment, as this is when fatty tissue dissolves and passes naturally through the lymphatic system. Most people will need at least two treatments to see the results they're looking for.
If you're using Saxenda injections, you should feel the appetite-regulating effects of this medication from day one. The first round of treatment will last you at least 44 days, and you may begin to notice some weight loss within a few weeks. Although many patients do achieve weight loss with Saxenda, there's no guarantee of the result or the time it may take to achieve weight loss, and additional lifestyle changes are required to lose weight.
Is an Injection for Weight Loss the Right Option for Me?
Weight loss injections may be a good fit for you if you're struggling to achieve your desired weight, but you mustn't see these treatments as a quick and easy way to reduce fat, as your own efforts will also be required for positive results. These weight loss methods are designed to complement a healthy lifestyle, which means you should aim to exercise regularly and maintain a healthy diet alongside treatment.
If you're close to your ideal body weight and want to target localised fat deposits, or you are severely overweight and looking to regulate your appetite through prescription medication, weight loss injections could be an excellent option. 
Where Can I Get Weight Loss Injections in the UK?
You should only ever seek weight loss injections from a certified professional. The right clinic will provide all the necessary medical advice and assistance, explain the procedure, and make sure your chosen treatment is right for you.
At Harley Street MD, an expert practitioner will professionally administer any weight-loss injections. In the case of Saxenda, a clinician will help you with the first injection and provide further guidance for self-administration at home. Weight loss injections are safe and effective with minimal risks and optimal benefit, but only in the hands of a trusted clinic.
If you're thinking about weight loss injections, contact Harley Street MD today for a free, no-obligation consultation. Our trusted medical professionals will help you find the best treatment option to help you achieve your desired weight.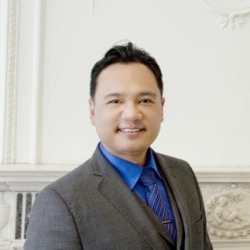 Latest posts by Dr. Chia Tan
(see all)