In the quest for perfect skin, one can often come up against unfamiliar chemicals and industry terms. When this happens, you need to do your research to find out exactly what you might be putting on your skin otherwise you could be risking long-term damage from either the wrong choice of product or an unforeseen side effect. One such chemical is hydroquinone, an ingredient commonly found in specific skin-lightening products.
What is it?
Hydroquinone is frequently found in skin-lightening products like bleaching creams. It works by limiting your production of melanin, the hormone that darkens your skin. While some people use it to lighten their darker skin, it is most prominently used to lighten small dark patches like sunspots or hyperpigmentation.
It is an excellent non-surgical aesthetic procedure to help you achieve the skin you have always wanted. Unlike skin lightening surgery, it is a cosmetic procedure that can be undertaken in the comfort of your own home after the initial consultation with your dermatologist. If you have dark patches or old sunspots, hydroquinone can lighten them and – when combined with other suitable skincare ingredients – it can help your skin recover from sun damage.
Why is 

hydroquinone

 controversial?
This ingredient has a controversial history and has been banned at various times. The ban has resulted mainly due to people using too high a concentration and doing permanent damage to their skin. It has also frequently been misused; hydroquinone is not to be used as an all-over skin lightening treatment. Such procedures are to be avoided. After much research, dermatologists have concluded that, in low concentrations, hydroquinone is safe to use and can produce some excellent results. However, it is only to be used to target small problem areas and not as an all-over, all-purpose fix.
The crux of the issue is that in countries like Africa some companies were creating hydroquinone in exceedingly high concentrations. They would also not provide aftercare, which meant patients were not informed they should not to go into the sun or wear sunscreen – which causes ochronosis. Ochronosis is a condition which causes the skin to darken where the cream was applied instead of becoming lighter. It is rare and typically does only appear with high concentrations; when used in the correct doses this is not an issue. However, should your skin become darker, stop using the cream immediately and consult your doctor as soon as possible.
As with any treatment, however, there may be some side effects. Common side effects include any that could occur with a change in your skincare routine. These include irritation like contact dermatitis. If you are prone to skin irritation, consider using a more natural, less abrasive skin lightening cream
Another side effect of prolonged hydroquinone use is a higher susceptibility to sunburn and UV damage. Always wear sunscreen with a high SPF, even on cloudy days, and make sure to have proper protection from the sun such as a hat or a jacket. Remember that hydroquinone is not a quick fix. Without adequately guarding your skin during your treatment, you run the risk of your dark spots reoccurring or becoming even darker.
Obagi and Zo both have a concentration of 4%. This concentration has been approved for long-term use by the FDA and CE. Therefore it is safe to use it long term, and it works very well. Always use sun protection while on hydroquinone and never buy it online to avoid unwanted side effects as your purchase could have dubious hydroquinone concentration.
Will it work for me?
If you think hydroquinone might be an option for you, please consult your dermatologist before purchasing. In the EU, hydroquinone products are prescription-only. Never buy a hydroquinone product online because you cannot guarantee what you are getting; no matter what concentration the label on the bottle claims. Only purchase hydroquinone products from sources your dermatologist recommends.
Ideally, your dermatologist will give you a prescription for a lightening cream with hydroquinone. Two of the bestselling and most trusted brands are Obagi or ZO Skin Health. Use cream with no more than 4% hydroquinone in conjunction with the frequent application of an SPF 30 sunscreen for the best results. Solutions of 2% are the most readily available; 4% can only be prescribed and will just be done so in the most challenging cases.
If you have been seeking a fix for your hyperpigmentation or sun damage, hydroquinone can help you. If you are still unsure or if you are worried about ochronosis, there are plenty of alternatives that can help you achieve the same results.
Raise your concerns with your dermatologist; they should be able to help you find another solution. Look for products with kojic acid, vitamin B3, or vitamin C as these are all natural alternatives present in hydroquinone-free skincare. Products with Arbutin, a bearberry plant extract, is also frequently quoted as a natural alternative to hydroquinone. It also acts the same way as hydroquinone; slowing the skin's production of melanin to lighten the skin over time.
With the proper cautions and considerations, it is an excellent option for lightening your skin. Although there are several side-effects to consider, you can rest easier knowing that dermatologists have put plenty of research into ensuring this product is safe for you to use. At Harley Street MD, we have one of the most trusted brands of hydroquinone products available; ZO Skin Health. If you have hyperpigmentation or sun damage and you are interested in hydroquinone creams, book a consultation with us today.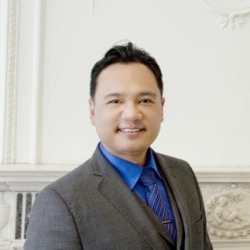 Latest posts by Dr. Chia Tan
(see all)