Hair loss is something that affects many people's confidence, and because of this, it is something many people look to amend or change using hair loss procedures. For men, hair loss is an extremely common condition, with it affecting 65% of all men by the time they reach 60. 
If you've spent your whole life with a great head of hair, it can be worrying and shocking when hair loss begins to take hold. You might feel your confidence slipping, and you might start feeling different about your appearance. 
The good news is, there are treatments out there that are effective and see great results. Whereas once, hair loss was something you couldn't change or do anything about – now you can take control, and get back that confidence your lost. 
Taking the Non-Surgical Route 
Surgery can be an expensive and daunting prospect, and male pattern hair loss is not something that may want to openly discuss. If you're not interested in surgical options, taking a low-risk non-surgical option may work better for you. 
Platelet Rich Plasma therapy (or PRP Rejuvenation) is the best non-surgical choice for targeting hair loss. Using a complex scientific process, PRP takes growth factors from your own blood, and splits out the useful components to then reinject back into your scalp. The platelets that are put back into your scalp stimulate collagen production in the roots of your existing hair / scalp and trigger the hair growth process within the areas targeted. The result takes a few weeks to notice, but it's a natural change that is both effective and noticeable. 
You will need to have blood taken during the process (at the beginning) but it's a fast and smooth procedure, and you shouldn't feel too uncomfortable. This small amount of blood is the key to unlocking the potential of PRP.
The treatment is quick, and you'll be able to return to work the next day (or straight after, if you wish). It only takes 30 – 45 minutes, and you'll ideally start seeing the improvements within a 1 to 3 months window window – although the results do vary from person to person. The results can be long lasting but a minimal yearly top up is advised. For optimal results, monthly sessions for first 3 months are highly recommended.
How to Know if Hair Loss Treatment is Right for you? 
The best time to get hair loss treatment, is as soon as you start feeling insecure. Remember, with hair loss treatments it takes time to see results – so you'll want to get the treatment as soon as you notice yourself feeling self-conscious or uncomfortable. Don't live with the problem and let your confidence suffer, especially if there is a solution available to try. 
The good news is, this hair loss treatment is relatively low-risk, especially compared to alternative surgical options. This means you stand a good chance of being accepted for treatment. However, if you fall into the categories below, you may be turned away for medical reasons: 
Active infection on the scalp
Systemically unwell
Uncontrolled diabetes
Severe anaemia
Find out more about our treatment for hair loss today.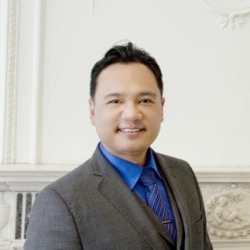 Latest posts by Dr. Chia Tan
(see all)