It's the new year and you've set resolutions for 2020. Most likely, you want to be the best you can be and are striving for the confidence that lets you put your best foot forward. There may be a little thing that's bothersome about your appearance you focus on every time you look in the mirror. So maybe it's time to have a small non-surgical procedure to help boost your confidence in the new year. One of the greatest benefits of non-surgical cosmetic treatments — in our opinion — is the fact there is little downtime or recovery. These procedures do not require surgery or a trip to the hospital — which is why they are becoming more popular. You'll also find non-surgical treatments cost less and are safer. Today we share with you the top cosmetic procedures of 2020 that you might want to consider if you are looking for a fabulous way to improve upon your appearance.
Botox
We've already talked about Botox many times on our website because it is always a popular treatment year after year. You might be scared of Botox because of the frozen face look many celebrities have from bad procedures and long-time use. We can't even recognize some stars anymore because they don't look like the same person. But, our goal with Botox is to make you look as natural as possible, so no one will even notice you've had the procedure. You probably have friends or family members who have had Botox and you didn't even know! Botox is one of the top cosmetic procedures each year because it turns back the clock on your face. We can reduce fine lines around your eyes and mouth or help deep wrinkles around your forehead disappear. If you come in for Botox at Harley Street Medical, we will discuss your desires in a free consultation and come up with the best treatment plan for you.
Aqualyx
Have you ever wanted to reduce fat around your body quickly without having to go under the knife? Then Aqualyx is right for you. Fat-dissolving injections like Aqualyx are more popular than ever in the UK. Aqualyx dissolves fat cells when injected into the adipose tissue under the skin. Then the fatty contents leave the body naturally through the lymphatic system. Depending on the chosen area, and how stubborn the fat is, will determine how many sessions you need. The treatment will be repeated, typically between two to five times depending on the thickness of the fatty layer. You can find Aqualyx in London at many clinics, but we hope you'll consider Harley Street Medical for your procedure. Come in for your free consultation to go over your wants and needs.
Tear Trough Filler
Tear trough filler is also known as under-eye fillers. It's perfectly normal as we age to lose elasticity in the delicate skin under the eyes, causing a sunken look. If you have bags or dark circles under your eyes, this procedure will help reduce all these problems. Sometimes dark circles and bags are caused by lack of sleep or staring at a computer screen too long. When you can't change your lifestyle, having under-eye fillers can give your face a lift and help you look brighter and well-rested without anyone ever knowing. We use pharmaceutical grade hyaluronic acid that is similar to the naturally occurring hyaluronic acid found in your body. It is regarded as one of the safest fillers for use in tear troughs, so if you think this procedure might be right for you, give us a call.
Why Are These Non-surgical Treatments so Popular?
With new technology comes the ease of non-surgical treatments that are quick and easy procedures with little to no downtime. This is very exciting for people who want a small change in their appearance, without the need for surgery in hospital. Our treatments are government-approved, safe and used with thousands of clients each year. The top cosmetic treatments in 2020 use small needles for a less painful procedure. This is good news for everyone.
We look forward to discussing your options so you are the best you can be in 2020.
Are you thinking of getting a cosmetic treatment in 2020 to feel more confident? Book a free no-obligation consultation with our aesthetic treatment experts. We offer the best Botox, facial treatments, Aqualyx, and tear trough filler in London to meet all your needs.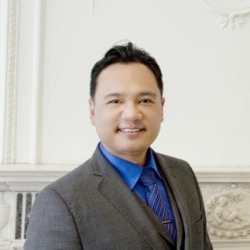 Latest posts by Dr. Chia Tan
(see all)