Updated May 2022
In 2022, tweaking your appearance through non-surgical treatments has become commonplace. As non-invasive cosmetic procedures continue to advance, making adjustments to your look is no longer taboo, with increasing numbers of people turning to cosmetic clinics to elevate their appearance and maintain a youthful glow.
Whether you're striving for a flawless face or simply a boost of confidence, non-surgical cosmetic procedures can help you achieve your desired look. These quick, safe, and cost-effective treatments require little downtime or recovery and no trip to the hospital, which is why they're becoming more popular. Today we share with you the top cosmetic procedures of 2022 that you might want to consider if you are looking for a simple — yet fabulous — way to improve your appearance.
Botox
Although it may not be a new face treatment, Botox is one of the top non-surgical cosmetic procedures year after year. In 2022, we're seeing a "baby botox" boom among Gen Z and millennials, with younger people choosing to get ahead on Botox treatments as a preventative measure against premature ageing. Baby Botox involves small doses of Botox being injected into targeted facial areas.
You might be scared of Botox because of the frozen face look many celebrities have from bad procedures and long-time use. At Harley Street MD, our experienced practitioners are experts at administering Botox for a natural look, so no one will even know you've had it done.
Botox is one of the top non-surgical treatments each year because it turns back the clock on your face. We can reduce fine lines around your eyes and mouth or help deep wrinkles around your forehead disappear. If you come in for Botox at Harley Street MD, we'll discuss your requirements in a free consultation and develop the best treatment plan for you.

Aqualyx
Have you ever wanted to reduce fat around your body quickly without going under the knife? If you're struggling to get rid of stubborn fat deposits despite a good diet and exercise regime, Aqualyx is the non-surgical procedure for you.
Fat-dissolving injections like Aqualyx are more popular than ever in the UK. Aqualyx dissolves fat cells when injected into the adipose tissue under the skin. Then the fatty contents leave the body naturally through the lymphatic system. How many sessions you need will depend on the chosen area and how stubborn the fat is. The treatment will typically be repeated between two to five times, depending on the thickness of the fatty layer. You can find Aqualyx in London at many clinics, but we hope you'll consider Harley Street MD for your procedure. Visit us for your free consultation to ask any questions and go over your wants and needs.

Tear Trough Filler
Tear trough filler is also known as under-eye filler. It's perfectly normal as we age to lose elasticity in the delicate skin under the eyes, causing a sunken look. This minimally invasive procedure is an excellent solution if you have bags or dark circles under your eyes. Sometimes dark circles and bags are caused by lack of sleep or staring at a computer screen too long. When you can't change your lifestyle, having under-eye fillers can give your face a lift and help you look brighter and well-rested. In our high-quality dermal fillers, we use pharmaceutical-grade hyaluronic acid (HA), similar to the naturally occurring HA found in your body. Hyaluronic acid is regarded as one of the safest fillers for use in tear troughs, making this procedure a low-risk non-surgical facial treatment.
Laser Hair Removal
One treatment that remains popular in 2022 is laser hair removal, which is sought after by men and women. Unwanted hair is easily removed with a series of laser hair removal treatments, which can last anywhere from five to 20 minutes. If you prefer to go hair-free, laser treatments can save you an amazing amount of time spent shaving or waxing.

Chemical Peels
Chemical peels are a popular choice of non-surgical treatment because of their ability to renew the skin, improve skin tone and leave you feeling fresh-faced. A chemical peel involves applying a safe chemical solution to the face, which removes outer layers of skin to reveal a glowing, healthy visage. Chemical peels vary in strength, with deeper peels treating more damaged skin.
The most commonly used chemical peel comprises alpha-hydroxy acids (AHAs) and combats minor skin problems like acne, blemishes, and enlarged pores. These peels treat the skin's uppermost layer and require little downtime, with mild redness and flaking lasting no more than a few days.
Medium chemical peels penetrate further into the skin, using trichloroacetic acid to reduce the appearance of fine lines and wrinkles. A deep chemical peel is the most intense, reserved for people with pronounced wrinkles or sun-damaged skin. The deeper the chemical peel, the more recovery time will be required, ranging from a couple of days to up to six weeks.

Non-surgical Rhinoplasty
You may have heard about non-surgical nose jobs, but perhaps you didn't know quick and simple these minimally invasive procedures could be. Anyone who wants to change the shape of their nose without resorting to cosmetic surgery can do so with liquid rhinoplasty, a treatment using dermal fillers to straighten or reshape the nose for a flawless finish. With a non-surgical nose job, there's no general anaesthesia required and you can return to work straight after treatment.

Micro-needling
Micro-needling uses tiny needles to promote collagen production and improve skin elasticity. This is one of the most popular non-surgical cosmetic procedures in recent times, well-loved for its incredible ability to regenerate the skin and provide a younger-looking appearance. Micro-needling can give you a radiant look within a series of treatments, reducing the appearance of skin flaws while simultaneously softening fine lines and wrinkles.
Why Are These Minimally Invasive Procedures So Popular?
With advancing technology comes new non-invasive cosmetic procedures that are quick and easy with little to no downtime. This is very exciting for anyone who would like to make a small change to their appearance without the need for serious surgery. Our treatments are very safe, government-approved, and used with thousands of clients each year. The top non-surgical cosmetic treatments use tiny needles and can be completed in 30 minutes or less for minimal pain and discomfort.
We look forward to discussing your options and helping you achieve your dream look in 2022.
If you're thinking of getting a non-surgical cosmetic treatment to boost confidence, our experienced aesthetic treatment experts would love to help. Book a free no-obligation consultation to discuss your needs with us.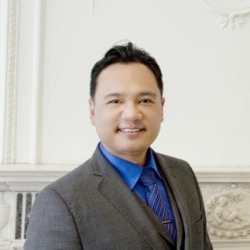 Latest posts by Dr. Chia Tan
(see all)