Now that summer is coming, you might be wondering if fat-dissolving injections are safe to use to help you lose that last bit of winter padding. The fat removal treatments we offer at our London clinic can help you get rid of those stubborn pockets of fat that are resistant to exercise or be used to refine and contour places like the jawline and hips. Non-surgical fat removal treatments like Aqualyx injection lipolysis are becoming more popular than their surgical counterparts, such as liposuction, for several reasons. If you have any questions about non-surgical treatments, you can book a no-obligation consultation — we are happy to help and discuss your treatment options. 
What Is Aqualyx?
Aqualyx is a revolutionary non-surgical product that can dissolve localised fat. Made from Deoxycholic Acid (DC) and plant compounds, it liquefies fat cells when injected into the skin. Aqualyx is a safe and effective fat-dissolving injection that destroys fat cells, which are then excreted by the lymphatic system naturally.
Renowned aesthetic surgeon Professor Pasquale Motolese developed the Aqualyx injection in 2004, and it launched globally in 2009. Aqualyx is used in the UK since December 2012. Aqualyx are used safely by thousands of people worldwide. 
Why Get Weight Loss Injections?
The fact of the matter is there are areas of the body and face that do not decrease or tone up even through dieting and regular exercise. Our experience is that with this new technology — fat removal injections — we can shift this stubborn fat when all else fails. Common areas our patients want to transform are the under the chin (the jowls), around the hips (the muffin top), under the upper arms (bingo wings) and the stomach, hips, chest, inner and outer thighs, knees and ankles. Both men and women come to our clinic for this treatment because of its effectiveness.
While fat removal injections are not a great option for larger areas of unwanted fat, they are perfect for people who are at a healthy weight but have a little extra in an isolated area. If you want to remove larger amounts of fat, or are looking to lose a significant amount of weight, non-surgical fat removal treatments are not the best choice. As with any cosmetic weight-loss procedure, it isn't a substitute for a healthy diet and lifestyle. The removal of specific fat cells will be permanent, but maintaining the reduced fat cells after treatment is down to you. We can't work miracles if you don't do the work needed to maintain your treatment.
Are Fat Removal Treatments Like Aqualyx Safe?
The Aqualyx treatment does not require surgery, and this alone makes it safer than procedures involving going under the knife and a stay in the hospital. We want everyone to know that surgery isn't your only option now that non-surgical treatments can be just as effective. Surgical treatments like liposuction carry a much greater risk of infection, require more in terms of pre and post-treatment requirements and have longer downtime. Aqualyx is the alternative to invasive liposuction and is available near you at a much lower cost.  
The side effects of fat loss injections are mild. You may experience some pain, light bruising or swelling around the injection area for a few days after treatment. This treatment is not suitable for certain clients, such as pregnant or lactating women or those with certain health conditions like diabetes, liver or kidney disease, or skin issues. Please discuss with your registered clinician to see if Aqualyx is right for you. 
If you decide to have fat-dissolving injections, make sure to choose a reputable clinic. There have been reports of people selling fake products marketed as Aqualyx. It's also important to note that clinics do not have to be specially licensed to offer fat removal treatments, so you'll want to receive the procedure from a licensed medical professional. 
Get in touch with our CQC registered weight loss clinic in London today to set up your free no-obligation consultation. Visit Harley Street MD and we will discuss your needs and recommend the best fat removal treatment for you.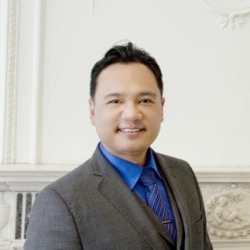 Latest posts by Dr. Chia Tan
(see all)