Updated October 2023
What Is the Best Non-Surgical Fat Removal Method?
First off, let's talk a little about non-surgical fat removal in general so we can see how injections fit into the picture. Besides liposculpture, the only previously proven way to remove fat cells was the surgical removal of fat and skin using plastic surgery procedures, such as an abdominoplasty (tummy tuck). While such cosmetic surgery is often promoted as a quick fix, liposuction and other such surgeries have associated risks, including blood clots, infections and fatality.
However, there are other options. Aqualyx, a fat-dissolving injection, is widely considered one of the best non-surgical fat removal treatment options and is extremely low risk compared to surgery. Additionally, there is no downtime or post-treatment requirements, and Aqualyx fat-dissolving injections cost significantly less than liposuction or other types of invasive plastic surgery procedures.
What Are Aqualyx Fat-Dissolving Injections?
Renowned aesthetic surgeon Professor Pasquale Motolese developed the Aqualyx injection in 2004 and launched it globally as a non-surgical fat removal treatment in 2009. Aqualyx has been used in the UK since December 2012 and is a revolutionary non-surgical fat removal option that can, as the name suggests, dissolve localised fat.
Research shows that Aqualyx injection lipolysis is a low-risk and clinically proven fat-dissolving injection. Once fat cells are destroyed, they are naturally excreted by your lymphatic system in your urine.
If you have any questions about the best non-surgical fat removal treatments, you can book a no-obligation consultation and speak to our expert team — we'd be happy to help and discuss your treatment options. Read on to find out how Aqualyx fat-dissolving injections work and why it is an effective way to get rid of fat deposits.
Are Fat Dissolving Injections Safe? A Comprehensive Breakdown
There are quite a few myths about the Aqualyx fat removal procedure that have floated around for a while, causing doubt and uncertainty for some. Anything to do with injections can be seen as invasive, dangerous, scary or that it comes with numerous side effects. It's understandable that people can feel paranoid and sceptical about a seemingly miraculous treatment that can solve a problem they've been dealing with for ages.
But are fat-dissolving injections completely safe? Are the whispers of side effects on internet forums and blogs true? Below are a few reasons why the Aqualyx fat removal method is generally safe for the majority of us.
Rare Side Effects
Unless you have a major allergic reaction to Aqualyx's ingredients, you will rarely see any side effects. The most you might feel is mild discomfort, tenderness or slight bruising and redness. You won't be able to perform any type of physical exercise for approximately seven days, too.
We recommend you check what ingredients go into Aqualyx and check with your doctor to see if you have any allergies. Additionally, those taking other types of medication might need approval from their doctor to be completely sure.
Minimal Pain
Local anaesthesia is applied when undergoing fat-dissolving treatment, so you most likely won't even feel a thing during the actual injection. Despite that, there is a slight chance you might feel some very mild discomfort or pain when the needle goes in. After that, you can experience tenderness and, in rare cases, bruising and redness.
Post-Treatment
Aqualyx takes around three to eight weeks until you see results, and you may need multiple treatments. The procedure is completely harmless to the body, but certain aftercare practices can help ensure you feel as little discomfort or pain as possible. Read the relevant section below for our complete aftercare tips.
Aqualyx injections: Ingredients
Aqualyx injections use entirely plant-based compounds, with the main ingredient found naturally in the human body. Again, we recommend you check with your local doctor to see if there's anything that could be potentially harmful to you in Aqualyx. If you don't have any immunodeficiencies, infections or outstanding circumstances, then it's completely safe.
Exploring Aqualyx Treatment Results, Side Effects and Aftercare
You've tried extensive diets, extreme workout schemes, and everything else under the sun but still haven't achieved your weight goals. As a result, you may have sought out alternative weight loss methods and come across both invasive and non-invasive methods, such as fat-dissolving injections. But, like many procedures that require needles, you might be wondering, "Are fat-dissolving injections safe?"
Everyone knows the feeling of frustration when trying to get rid of pesky, stubborn pockets of fat that just won't shift. Even if you're genetically predisposed to store fat in certain areas, such as your tummy, bottom or thighs, there is hope beyond invasive procedures like liposculpture — and that hope might lie in non-surgical treatments like fat-dissolving injections.
But before you commit yourself to these treatments, it's important to know exactly what you're doing. Below, you'll find comprehensive information about Aqualyx, an injection that can help you with your fat loss journey.
What Are the Side Effects and Complications of Aqualyx Fat Dissolving Injections?
Side effects of fat loss injections are mild and generally only last between three to six days.
The most common side effects include:
Tenderness
Redness
Light bruising
Swelling.
Although serious complications can occur, they are very rare.
Complications may include:
Allergic reaction
Hyperpigmentation
Lumps or dips in the skin
Nerve damage
Infection
Scarring
Skin necrosis (death of skin cells).
Unfortunately, the current lack of UK regulations regarding who can perform non-invasive aesthetic procedures means numerous aesthetic practitioners have done less than one day's training in Aqualyx fat-dissolving injections. It's also important to note that clinics do not have to be specially licensed to offer non-surgical fat removal treatments. This is why it is critical to find a properly qualified, licensed medical professional and choose a reputable aesthetic clinic if you decide to have fat-dissolving injections.
Individuals Not Suitable for Aqualyx Injections
There are a few instances where you should not undergo a fat-dissolving injection procedure. The treatment doesn't cover large areas of the body and works best when dealing with small, stubborn areas. It works best in areas such as the bingo wings, double chin or love handles. Don't go through the procedure thinking it's an all-encompassing fat-loss solution.
If you are clinically obese, we strongly recommend you lose a considerable amount of weight first. This is because Aqualyx isn't a weight loss cure but a device to help you achieve your physical goals.
Additionally, anyone who's pregnant or breastfeeding must not undergo this procedure. If you have a skin condition or experience regular immunity issues, you may want to consult with a professional first.
The most important consideration when looking for a clinic that performs fat-dissolving treatments is that they are reputable. Regulations around the procedure are lax in the UK, so finding an anaesthetist who's trustworthy is paramount.
Fat-Dissolving Injections Aftercare: Tips and Recommendations
Aftercare is an essential step in your treatment for optimal results. Without proper aftercare, you may experience more discomfort than normal. Immediately after your treatment, avoid touching the area for about six hours, as there might be tenderness, swelling or redness. You may feel an itching sensation, but resist touching the area.
After the six hours have passed, you can wash the area gently with soap and lukewarm water. Do not expose the area to extreme heat (hot showers, saunas, etc.) or extreme cold (ice baths or cold showers). Painkillers can also aggravate bruising or redness at the injection site. Also, avoid moderate to intense exercise for a week to ensure that the treatment works as intended.
Fat-dissolving injection treatments aren't one-time events. You may require around three sessions to achieve the results you're looking for, so remember the above aftercare tips for a more comfortable experience.
Achieving Optimal Fat Dissolving Injections Results
Many might have unrealistically high expectations when it comes to Aqualyx. The treatment works in small areas to tighten up or contour your existing physique. If you're obese or very overweight, you won't experience proper results.
Maintaining a healthy diet and a disciplined workout regime is the most effective way to achieve the best results after a fat reduction treatment. Consider the treatment as a support mechanism to enhance your already healthy lifestyle choices.
Benefits of Non-Surgical Fat Removal Using Aqualyx Injections?
Certain areas of the body and face do not tone up despite dieting and regular exercise. At Harley Street MD aesthetic clinic in London, we can help you shift this stubborn fat with clinically proven Aqualyx injection lipolysis. This groundbreaking, non-surgical fat removal treatment can help you lose fat from almost all areas of the body, including:
Chin
Jawline (jowls)
Hips (love handles)
Abdomen
Back
Upper arms (bingo wings)
Chest (men)
Inner and outer thighs
Knees
Ankles.
Both men and women come to our clinic for this non-surgical fat removal treatment, and it is perfect if you are a healthy weight but have a little extra fat you want to lose from an isolated area. However, if you want to lose a significant amount of weight, we recommend speaking with your GP about changes you can make to your diet and lifestyle.
As with any fat reduction treatment, maintaining reduced fat cells is down to you. We can help you get rid of fat deposits, but you need to do the work required to keep your new shape.
Frequently Asked Questions about Fat-Dissolving Injections
Can anyone have fat-dissolving injections?
Fat loss injections should not be given to pregnant or lactating women or those with certain health conditions, including:
Diabetes
Liver or kidney disease
Skin issues
Chrones or severe autoimmune diseases
Immunosuppressed patients.
Do fat-melting treatments last?
Non-surgical fat removal treatments can help you achieve a slimmer and more contoured physique. As long as you commit to healthy lifestyle changes, results can be significant and permanent.
How long does it take to see results?
After each treatment, swelling may take up to 14 days to subside, and it typically takes three to eight weeks for fat deposits to become noticeably reduced.
How many fat-loss injections will I need? 
You may require two to three treatments for noticeable fat loss results. Aqualyx fat-dissolving injections can be repeated every three to four weeks until the desired fat loss is achieved. How many fat-dissolving injections you'll need will depend on the volume of targeted fat deposits.
What are fat-dissolving injections made from?
Aqualyx contains the following naturally occurring ingredients:
Deoxycholic acid
Buffering chemicals
Sodium chloride
Red microalgae sugars
Other sugars
Water.
Do fat-dissolving injections hurt?
As with any treatment that involves needles, injections may cause slight pain or discomfort. However, your practitioner will numb the area with a topical cream before the procedure to ensure discomfort is minimal.
Am I a suitable candidate for weight loss injections?
Aqualyx injection lipolysis is suitable if you have deposits of fat you cannot shift despite eating a healthy diet and exercising regularly. Fat loss injections are not suitable if you are significantly overweight.
How much do fat-dissolving injections cost?
At Harley Street MD aesthetic clinic, prices start at £400 for a single treatment. Discounts are offered for a course of five treatments. Please view our treatment price list for all of our pricing options.
If you have any questions about fat-dissolving injections, please arrange a free, no-obligation consultation at Harley Street MD aesthetic clinic in London. We will explain the procedure and if it's the best choice for you.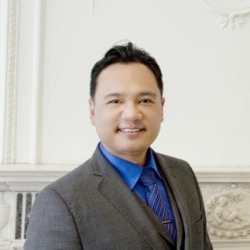 Latest posts by Dr. Chia Tan
(see all)