Botulinum toxin injections
Injections using botulinum toxins (Botox) is the safest and most popular treatment for the reduction of facial wrinkles worldwide. The Botox treatment is administered using fine needles. The effect is a smoother face with wrinkles less pronounced, giving the appearance of a more youthful look.
The ingredients contain a purified protein that fills the space between nerve endings and muscle fibres stopping muscle contraction. This in turn reduces the appearance of wrinkles. The effect can last up to 4 months and the procedure is reversible.
The most popular facial areas for a Botox treatment are:
Forehead

Frown lines (between eye brows)
Crows feet (corner of the eyes)
Under the eyes
Eyebrow arches
Nose lines

Gummy smile
Dimpled chin
Mouth corners
Top lip
Neck bands
The emphasis is always placed towards achieving a natural look. Botox can also be used as a prevention method to avoid wrinkle formation. In the hands of an advanced qualified injector, it can be used to treat all the facial areas mentioned above to achieve a rejuvenated look.
Botox is FDA approved and it is used in millions of treatments every year. It is safe and non surgical so apart from some mild local swelling, there are no other side effects or downtime to worry about.
Contact us today to book your free consultation at our Harley Street clinic in Central London.
Before and After Photos for Botox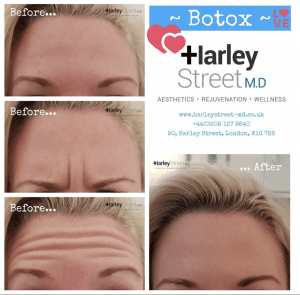 As the seasons change it is the perfect time to freshen up with botox to get rid of your seasonable blues! Treat yourself to a sprinkle of the foundation of youth. Why? 'Because you're worth it'. 
Your treatment
PROCEDURE TIME 15-30 minutes

BACK TO WORK Same day

ANAESTHETIC As required

FULL RECOVERY 1-2 days

DURATION OF RESULT 3-4 months

RESULTS 7-10 days
Treatment price
More information