How to Make Your Lips Look Bigger?
Full, luscious lips are often associated as a sign of youth and sensuality. A hydrated, symmetrical and well-defined vermilion border makes lips look irresistible. The key to full and hydrated lips is hyaluronic acid (HA). HA is found naturally under our skin; it attracts water molecules and therefore has important structural and hydrating functions. It is often referred to as the body's natural moisturiser and it is responsible for the fullness and firmness of the skin. Though abundant in our youth and earlier years, HA production decreases over time which leads to the loss of volume, wrinkle formations and subsequently, duller-looking skin with decreased elasticity.
See our before and after images for lip enhancement.
Dermal fillers are pharmaceutical grade, synthetic, biodegradable hyaluronic acid that is identical to our own natural hyaluronic acid. They are commonly used in aesthetic medicine as a safe and effective method of lip enhancement and skin rejuvenation. They minimise wrinkles, restore lost volume and rehydrate skin tissues. Furthermore, it stimulates the production of our own collagen.
Dermal fillers can be used as a safe, non-surgical lip filler treatment to improve firmness and elasticity. You'll get a smoother, fuller and healthier appearance around the lip area and skin as a whole.
Benefits of Lip Enhancement Fillers at Harley Street London
Enhance the definition of the vermilion border
Restore the volume by creating fuller, luscious lips
Minimise the vertical lines within the lips
Hydrate the lips
Reverse downward mouth corners
Enhance the cupid's bow (philtrum ridge) to create a sexy look
How Long Do Lip Fillers Last?
The results' duration varies between individuals depending on a number of factors, including but not limited to; age, patients' general health, the areas being treated, the thickness of the HA products (i.e grade), the quantity of the lip filler injected as well as the patients' lifestyle. Most dermal fillers can last up to anywhere from 6-9 months, with newer generation technology expected to last up to 12-18 months.
Whether you are looking for a full, sensuous pout or a natural subtle lip filler enhancement, our lip augmentation specialists at Harley Street MD are here to help. Book a free no-obligation consultation at our central London, Harley Street clinic today and let us help you achieve the lips you have always wanted.
Frequently Asked Questions about Lip Enhancements
Before and After Photos of Lip Enhancement at Harley Street MD London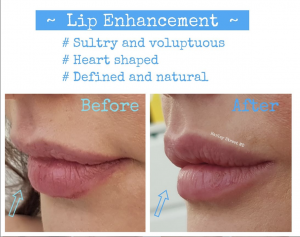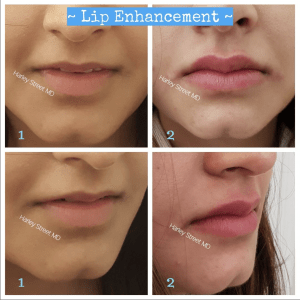 A little filler goes a long way. These results were achieved using Juvéderm Volift to give a more sultry, defined look. The cupids bow is lifted and the lips are fuller, more defined, giving them that beautiful heart shape without compromising our patients' wishes for a natural look.
In the above image, our client was initially afraid of the infamous 'duck lips' look and we are glad to say that her result was remarkably natural and attractive. This picture was taken immediately after the procedure and as you can see, the lip fillers look undetectable. Our clients love their new lips and so do we.